Understanding the 3 R's of the Stark Law: Rules, Risks, and Our Recommendations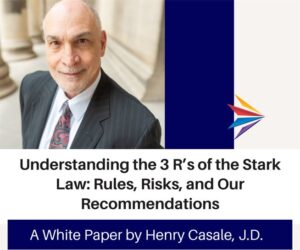 The regulations that became effective on January 19, 2021 are the most significant changes to the Stark Law since 1995. HortySpringer attorney Henry Casale explains in-depth the current Stark rules and where, and how, the rules have been affected by the current changes.
As an added bonus, we're also providing a "Black-Line" that illustrates the changes that the January 19, 2021 Rules have made to the Stark Rules that were previously in effect. To purchase your own copy, click here.
Surprise, Surprise, Surprise: What's the Deal with Surprise Billing Regulations?
Time is ticking, are you ready for the surprise billing regulations?
Every provider contract must be reviewed in anticipation of the Surprise Billing rules taking effect on January 1, 2022. It's the only way to limit your exposure to the changes that are coming. How are you going to review them all?
HortySpringer has partnered with LegalSifter, a Combined Intelligence™️ company that utilizes AI to quickly and accurately find critical information in existing contracts. We have created the whitepaper "Surprise, Surprise, Surprise, What's The Deal with Surprise Billing Regulations" to provide important information about the surprise billing rules process. To receive additional information on how we can assist you, click here.