What's New in Health Law
New Cases




——–
Utah Court Issues Ruling in Contract Dispute
The Court of Appeals of Utah recently affirmed a district court's ruling in a physician's lawsuit against a medical clinic. The physician had sued the medical clinic after it failed to pay her in accordance with her employment agreement.
The dispute centered on the interplay between the physician's recruitment agreement (a separate document) and her employment agreement. Under the recruitment agreement, a local hospital agreed to pay a monthly amount to the physician. The physician would then give this monthly amount to the medical clinic, which would return a share of it back to her in the form of salary and benefits. This arrangement was called into question when the physician decided to terminate her employment with the hospital. The flow of money from the hospital to the physician (and on to the clinic) stopped, but the physician kept working for the medical clinic.
The courts ultimately ruled that the medical clinic had an independent duty to pay the physician for all of the work she did. Even though the medical clinic stopped receiving funds from the hospital, this did not extinguish the contractual duty it held to the physician. Consequently, the physician was entitled to approximately two months' worth of her salary at the medical clinic.
Skolnick v. Exodus Healthcare Network, PLLC
To read more about this case and more, visit our What's New page.
______________________________________________
——–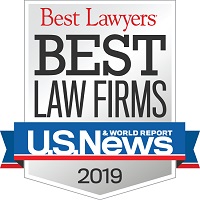 Question of the Week
blank
If we decided to implement standardized personality tests across our institution, would this raise any legal concerns?  Does the EEOC have any guidance on this?
Read the answer>>
______________________________________________
______________________________________________
NEW!
GRAND ROUNDS 2019 Monthly Audio Conference Series has been posted:
See the schedule here.
______________________________________________
Our 2018-2019 Seminar Calendar is online.  Check it out!
__________________________________________
Spotlight on our Affiliates:
Contract review in a minute or two.
We recently announced a strategic partnership with LegalSifter to help our clients review, analyze, and negotiate contracts quickly and confidently with the advice of Horty Springer's attorneys. We've tested the software in our offices for several months – it's fantastic. Would you like to learn how the combined intelligence of LegalSifter's artificial intelligence and HortySpringer's advice will help you review your next contract in minutes?
Contact Dan Mulholland at DMulholland@hortyspringer.com to learn more.
LegalSifter is configured to review HIPAA business associate agreements, service contracts, non-disclosure agreements, software agreements, and many others.
Sign up for our FREE
Health Law Express™
Newsletter
Or contact us
with any questions
comments or concerns