What's Happening Now
Our mission during this time is to help hospitals and organizations by continuing to provide our high-quality, cost-effective educational offerings, regardless of travel restrictions. To that end, we are pleased to offer virtual onsite educational training that will enable you and your staff to continue receiving the guidance you need and have come to trust from our experienced attorneys. Watch our video now for more information!

*
---
What's New in Health Law
***
New Cases
***
I am Aging Like Fine Wine… Getting Complex and Full Bodied
In a qui tam Federal False Claims Act case brought by an anesthesiologist against a Massachusetts hospital, a discovery dispute arose over certain documents that would have been protected by the Massachusetts peer review privilege if this had been a state law proceeding. However, the question was whether any federal privilege would except the documents from discovery in a federal False Claims Act case. The federal district court found that the important federal interest in prosecuting health care billing fraud weighs strongly in favor of disclosure and ruled that the state peer review privilege did not apply. While the court ordered disclosure of peer review documents, the court did rule that the production of documents would be subject to a protective order to preserve confidentiality, thereby minimizing any concerns about discouraging rigorous and honest evaluation of physician conduct through public disclosure.
US ex rel Wollman v. Massachusetts General Hospital
To see what's New in Healthcare, visit our What's New page
---
Question of the Week
We have an applicant for medical staff appointment who is over 80 years old. Are there certain things we can require during the credentialing process before he gets on staff?
---
Spotlight on our Affiliates

The Horty Springer LegalSifter Essentials Edition is available as an online subscription!
HortySpringer and LegalSifter have developed a product that can be used directly by clients to review and edit common types of contracts frequently used by hospitals and health systems. For one low price per user/per month, you can access Horty Springer's legal best practices and sample contract language, alongside LegalSifter's artificial intelligence algorithms, to accelerate your contract review activities and minimize risk for your business. You can sign up for a free 14-day trial of the HortySpringer LegalSifter Essentials Edition by clicking here. Don't delay, try it today!
---
Best Law Firm 2021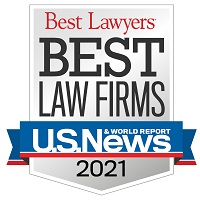 Since 1971, Horty, Springer & Mattern has been enabling our clients' success in the health care industry through legal services, on-site education and national seminars. Whether you're training and empowering physician leaders, dealing with Medical Staff issues, negotiating physician contracts, or are in need of leadership and training development, we can help.
At Horty, Springer & Mattern, we utilize the law to enable our clients' success resulting in a powerful, positive, and lasting impact.
---
Health Law Express
Sign up below to receive the Health Law Express, our free weekly e-newsletter that is delivered right to your inbox. See sample copy here.
---
NEW! On-Demand Education
You've asked.
We've listened.
And now our peer review expertise is readily available to you. Whenever you need it.  How often you need it.  Right in your own hospital. Read more about our new on-demand education and training series!
Invest a couple of hours a month for the next several months at your convenience and transform your culture for the next decade!
Upcoming Events