Hala Mouzaffar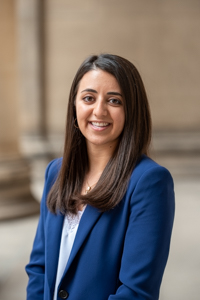 B.S., University of Pittsburgh (cum laude) 
J.D., University of Pittsburgh School of Law
HALA MOUZAFFAR is an associate attorney with the law firm of Horty, Springer & Mattern, P.C. in Pittsburgh, Pennsylvania. She handles projects from each of the firm's practice areas, assisting clients on a broad range of corporate, regulatory, and transactional matters.
Hala is an editor and assistant editor of the firm's Health Law Express, a weekly e-newsletter on the latest health law developments. She also served as an editor for the first edition of the American Health Law Association The Complete Medical Staff, Peer Review, and Hearing Guidebook. Hala is also the cohost of The Kickback Chronicles, a segment on the firm's podcast, Health Law Expressions, that discusses fraud in the healthcare industry. She is also a current faculty member of the HortySpringer Seminar Hospital-Physician Contracts and Compliance Clinic.
Hala earned her J.D. from the University of Pittsburgh School of Law and obtained the school's Certificate of Advanced Study in Health Law. While there, she served as a member of the University of Pittsburgh Law Review and as the publication's first Executive Editor for the Online Edition. Prior to attending law school, Hala obtained her B.S. in Neuroscience with a Certificate in the Conceptual Foundations of Medicine from the University of Pittsburgh.