Jennifer Bell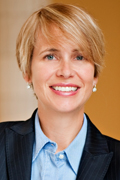 Jennifer Bell, co-founder of Chamber Hill Strategies, has a proven track record of success in impacting each major health care bill enacted in the last decade. Given her extensive experience in Washington and her deep knowledge of the health care industry, she has worked effectively with clients to create policy solutions and legislative opportunities, respond to investigations, and mitigate the effects of harmful legislation and regulations. She advises a wide variety of clients, including acute and post-acute care hospitals, dialysis providers, skilled nursing facilities, home health agencies, hospices, physician groups, pharmacy-related providers, pharmaceutical and device manufacturers, technology companies, private equity investors, and hedge funds.
Jennifer has over a dozen years of experience working on and around Capitol Hill. Her public sector work included serving as majority health policy advisor for the Senate Finance Committee where she developed and managed legislative initiatives regarding Medicare fee-for-service programs, including passage and implementation of the Medicare Modernization Act of 2003. She has extensive experience in working in the House of Representatives and the Senate Committee on Health, Education, Labor, and Pensions (HELP). Prior to founding Chamber Hill Strategies, Jennifer led numerous client strategies at two prominent law and lobbying firms as well as launching her own successful policy and advocacy consulting firm Jennifer Bell + Partners.
Along with her thorough understanding of the legislative and regulatory process, Jennifer has strong bipartisan relationships within the Senate Finance Committee, the Senate HELP Committee, the Senate Judiciary Committee, the House Ways and Means Committee, and the House Energy and Commerce Committee, as well as the Senate and House leadership. She works regularly with political appointees and civil servants at the Department of Health and Human Services (HHS), the Centers for Medicare and Medicaid Services (CMS), the Medicare Payment Advisory Commission (MedPAC), the Government Accountability Office, and the Congressional Budget Office.
A licensed speech-language pathologist, Jennifer received an M.S. in Communication Disorders from the University of New Hampshire, and a B.A. in French from Wheaton College.